"Music is one of the best universal languages.
We are all equal in this world. We only need to learn how to embrace and respect our differences, and I believe music is a great way to start."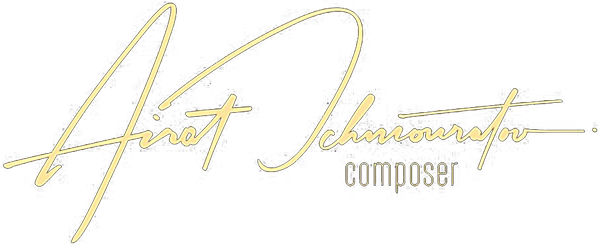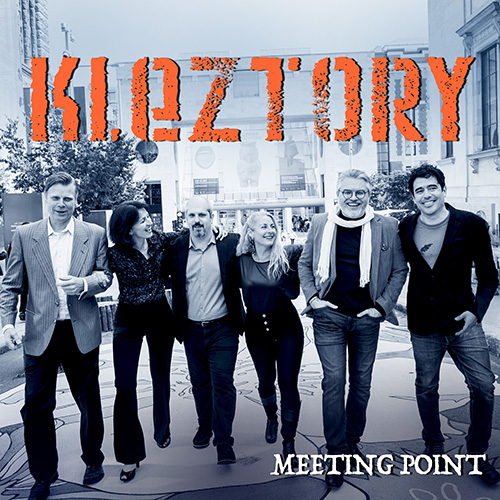 Kleztory | Meeting Point
2023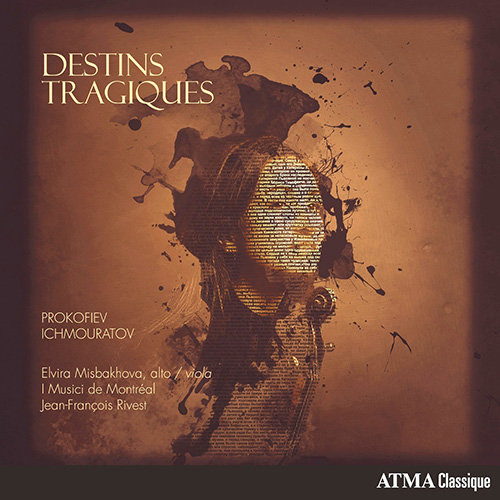 Elvira Misbakhova | Destins Tragiques
2023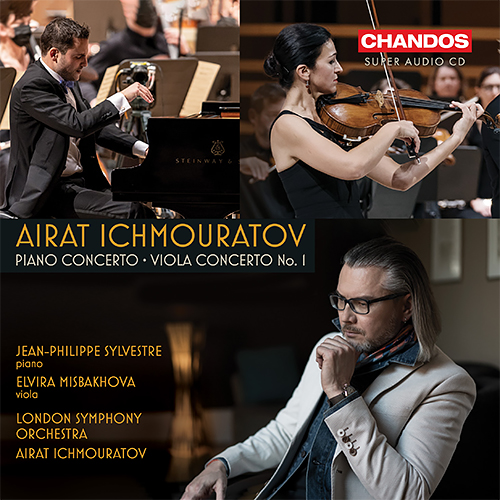 A.Ichmouratov: Viola Concerto No.1 | Piano Concerto
2023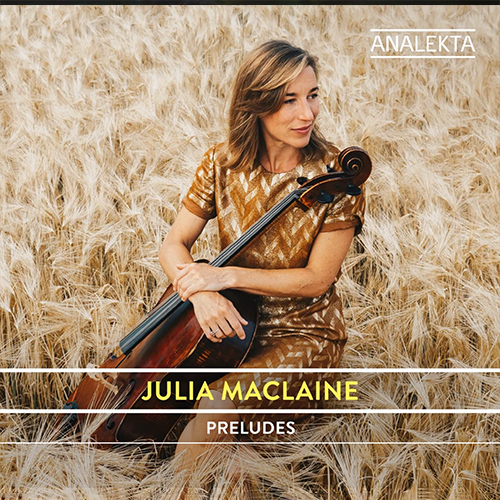 Julia MacLaine | Preludes
2022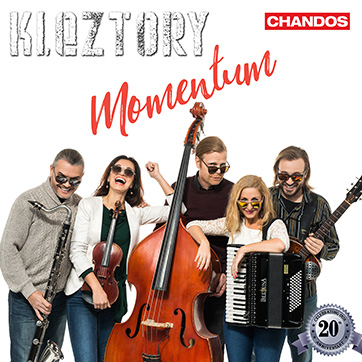 Kleztory | Momentum
2021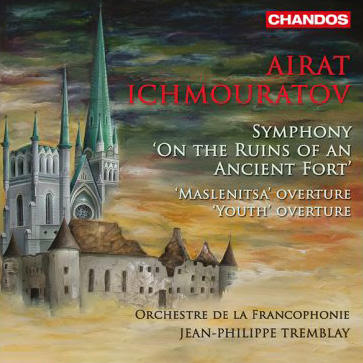 A.Ichmouratov | Overtures/Symphony
2020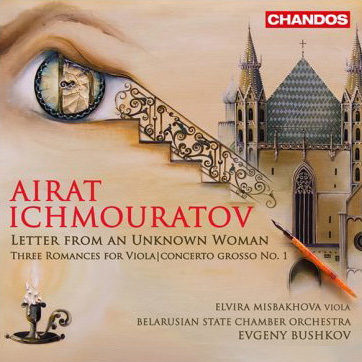 A.Ichmouratov | Orchestra works
2019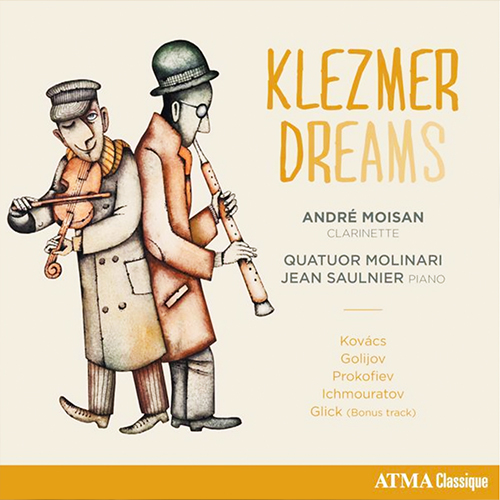 Andre Moisan–Jean Saulnier–Molinari String Quartet | Klezmer Dreams
2017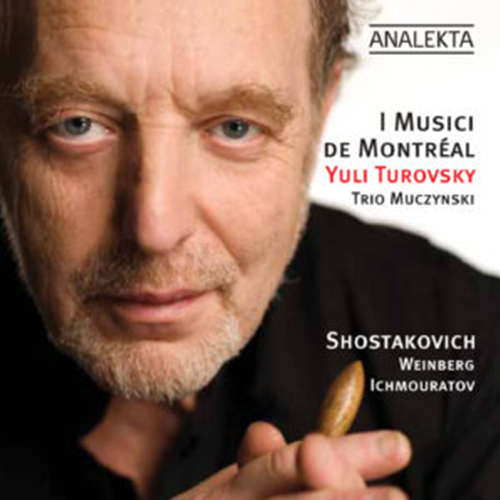 Shostakovich Weinberg Ichmouratov
2008

​
The music of award-winning  Canadian composer Airat Ichmouratov has been performed at concert halls such as Wiener Musikverein, Konzerthaus Berlin, Elbphilharmonie Hamburg, Tonhalle Zürich, Sydney Opera House,  The Montreal Symphony House by a wide range of ensembles and musicians in countries around the world, including  Maxim Vengerov,  Robert Langevin,  Yannick Nézet-Séguin  &  Orchestre Métropolitain, London Symphony Orchestra, Chamber Orchestra "Moscow Virtuosi",  Yuli Turovsky  &  I Musici de Montreal,  Alexander Gilman &  LGT Young Soloists,  Israeli Soloists Chamber Orchestra,  Quebec Symphony Orchestra,  Symphony Orchestra of India, Taipei Symphony Orchestra, "Amadeus" Chamber Orchestra of Polish Radio, Chamber orchestra "Les Violons du Roy",  Tatarstan National Symphony Orchestra  just to name a few.  Versatile in form and style, Ichmouratov's compositions were recorded on Chandos, Warner Classics, Analekta, Atma Classique, and Hedone Records.


Holding two Master's degrees - in interpretation (clarinet) and composition, also Ph.D in orchestra conducting from the University of Montreal, Airat Ichmouratov has frequently been invited as the guest conductor with numerous orchestras around the world.    Mr. Ichmouratov served as Conductor in Residence of  "Les Violons du Roy" (2007-2009), Quebec Symphony Orchestra (2009-2012), and Longueuil Symphony Orchestra (2018-2021). In August 2011, Mr. Ichmouratov conducted I Music de Montreal on tour in USA, Brazil, and Peru. In October 2011 he made his debut with Tatarstan Academic State Opera and Ballet Theatre and was immediately re-invited to conduct Puccini's Turandot and Verdi's Rigoletto during the 2012-13 season and on the following European Tour.  


Born in Kazan, Tatarstan, Airat Ichmouratov studied clarinet at the Kazan State Conservatory. In 1993, when he was appointed as Associate clarinetist of the Tatarstan's Opera and Ballet Theatre, and of the Kazan State Symphony Orchestra, he began to extensively tour Europe. In 2000, after immigrating to Canada he founded the Muczynski Trio, which won 1st prize and the Grand Award at the National Music Festival (Canada, 2002) and 1st Prize at the 8th International Chamber Music Competition in Krakow (Poland, 2004). The Trio has also recorded for CBC and has given performances in Canada, China, Russia and Europe.


In 2000, Mr. Ichmouratov joined the klezmer group Kleztory, in which he plays the clarinet, composes, and arranges.  In 2012 Kleztory won The Klezmer Furth Prize at the International Klezmer Festival and Competition in Amsterdam and as result appeared at Furth Klezmer Festival during the following spring. With Kleztory, Mr. Ichmouratov has appeared as a soloist with numerous orchestras including the Montreal Symphony Orchestra, the Quebec Symphony Orchestra, I Musici de Montreal, Les Violons du Roy, Brussels Chamber Orchestra, given in a total of over 1000 concerts in 20 countries.


On October 21, 2020, Airat Ichmouratov received Charles Biddle Award. This honor, given by the Ministry of Immigration, Francisation and Integration and "Culture pour tous" highlights the contributions of immigrants to Quebec whose personal and professional commitment contributes to the province's cultural and artistic development.  


Airat Ichmouratov's most recent composition – the neo-romantic opera "The Man who laughs" after Victor Hugo's novel of the same name, a commission from Festival Classica, will be premiered in Montreal in the spring of 2023 under the baton of the composer.
Die Musik des russisch-kanadischem Komponisten und Dirigenten Airat Ichmouratov wurde schon von vielen Ensembles und Musikern aus der ganzen Welt gespielt. Dazu gehören Maxim Vengerov, Quebec Symphony Orchestra, Orchestre Metropolitain, Les Violons du Roy, New Orford Quartet, Yuli Turovsky & I Musici de Montreal, 13 Strings (Ottawa), Tatarstan State Symphony Orchestra (Russia), Alcan Quartet, Orford Camerata Ensemble, Mark Simons, Andre Moisan, Jean Francois Rivest, Alain Trudel, Yegor Dyachkov, and Stephane Tetreault, um nur einige zu nennen. Die vielseitigen Formen und Stile von Ichmouratovs Werken wurde von Mahler, Shostakovich, Prokofiev, Rachmaninoff und Mussorgsky beeinflusst.
Einige der jüngsten Werke wie Fantastic Dances und String Quartet N2 wurden aufgenommen von I Musici de Montréal für "Analekta", Alcan Quartet für "ATMA", Cadenzas für Beethoven Violin Concerto von Alexandre Da Costa mit dem Taipei Symphony Orchestra und Johannes Wildner als Dirigent für "Warner Classics." Zu den neuesten Projekten gehören Kompositionen von einem Klezmer beeinflussten Quintet für Andre Moisan & Molinary Quartet, "Youth" Overture fürr Orchestre de la Francophonie und Symphony No. 1 für Longueuil Symphony Orchestra.
Ichmouratov wurde ausgezeichnet als Resident Composer 2012 bei den Concerts aux îles du Bic (Kanada), im Jahr 2013 als Composer of Summer vom Orford Arts Centre (Kanada) und im Jahr 2015 als Summer Composer bei der 17. Edition vom Festival Classique des Hautes-Laurentides (Kanada). Seit 2010 ist Ichmouratov der Associate Composer des kanadischen Musikzentrums.
Mit einem Doktortitel im Bereich Orchester Dirigat an der Universität Montreal wurde Airat Ichmouratov schon oft als Gast Dirigent eingeladen von Tatarstan's State Symphony Orchestra, dem Kazan Chamber Orchestra "La Primavera" (Russland), Orchestre Metropolitain, Laval Symphony Orchestra, Orchestra London, New Brunswick Symphony Orchestra und auch vom I Musici von Montreal und 13 Strings (Ottawa). Airat Ichmouratov hat als Dirigent bei Les Violons du Roy in Quebec City von 2007 bis 2009 gearbeitet. Auf dem Konzert unter der Direktion von Ichmouratov "Russian Impressions" feierte sein Cello Concerto Weltprämiere, das den Opus Preis in der Kategorie "Best Concert of the Year" gewonnen hat. Airat wurde danach als Assistenz Dirigent beim Quebec Symphony Orchestra von 2009 bis 2011 eingesetzt. Im August 2011 war Ichmouratov als Dirigent mit I Music de Montreal auf Tour durch die USA, Brasilien und Peru. Im Oktober 2011 hatte er sein Debut mit der Tatarstan Academic Staatsoper und Ballettheater (Russland) und wurde direkt eingeladen Puccinis Turandot in der nächsten Saison auf der Europa Tour als Dirigent zu begleiten.
Airat Ichmouratov wurde in Kazan, Russland geboren und hat Klarinette an der Kazan State Conservatory studiert. 1993 wurde er Klarinettenspieler des Tatarstan Oper und Ballettheater und des Kazan State Symphony Orchestra. Im Jahre 2000 hat er seinen Master Abschluss an der Universität von Montreal gemacht. Danach hat er das Muczynski Tri gegründet, das den ersten Preis und Grand Award beim National Music Festival (Kanada, 2002) und den ersten Preis bei der 8ten International Chamber Music Competition in Krakau (Polen, 2004) gewonnen hat. Das Trio hat auch Aufnahmen für CBC gemacht und Auftritte in Kanada, China, Russland und Europa gehabt.
Im Jahr 2000 ist Herr Ichmouratov der Klezmer Gruppe Kleztory beigetreten, in der er Klarinette spielt und komponiert. 2004 hat Kleztory eine einzigartige CD aufgenommen; Klezmer Musik mit I Musici de Montreal und Yuli Turovsky aufgenommen mit dem "Chandos" Label (Großbritannien). Mit dem Album "Nomade" hat Kleztory 2007 den Opus Preis gewonnen. Das jüngste Album (2014) "Arrival" wurde als beste Album des Jahres im Bereich der traditionellen Musik von ADISQ nominiert. 2012 hat Kleztory den Klezmer Fürth Preis beim internationalen Klezmer Festival und Wettbewerb in Amsterdam gewonnen und sind deshalb im nächsten Frühjahr auf dem Fürth Klezmer Festival aufgetreten. Neben Kleztory hat Ichmouratov mit vielen Orchestern gearbeitet, dazu gehören das Montreal Symphony Orchestra, das Quebec Symphony Orchestra, I Musici de Montreal, Les Violons du Roy und Brussels Chamber Orchestra und war auf Tournee durch Kanada, USA, Brasilien, Mexiko, Costa Rica, Rumänien, Belgien, Österreich, Ungarn, Schweiz, Niederlanden, Deutschland und China.
La musique du compositeur russo-canadien, Airat Ichmouratov a ete executee dans des salles de concert telles que Wiener Musikverein, Konzerthaus de Berlin, La Philharmonie de l'Elbe, La Tonhalle Zürich, L'Opera de Sydney, Maison Symphonique de Montreal par un large eventail d'ensembles et de musiciens dans les pays du monde entier, y compris par Maxim Vengerov, Robert Langevin, Yannick Nezet-Seguin & l'Orchestre Metropolitain, L'Orchestre symphonique de Londres, L'Orchestre de chambre "Les Virtuoses de Moscou", Yuli Turovsky et I Musici de Montreal,Alexander Gilman et LGT Young Soloists (Suisse-Liechtenstein), Israeli Soloists Chamber Orchestra, l'Orchestre Symphonique de Taipei, l'Orchestre symphonique de l'Inde, L'Orchestre de chambre "Les Violons du Roy", Agnieszka Duczmal et l'Orchestre de chambre de la Radio Polonaise "Amadeus", Sasha Mirkovic et l'ensemble Metamorphosis (Serbie), l'Orchestre Symphonique de Quebec, l'Orchestre Symphonique d'Edmonton, l'Orchestre Symphonique d'Ottawa, Alain Trudel & l'Orchestre Symphonique de Laval, l'Orchestre symphonique national du Tatarstan (Russie), pour n'en nommer que quelques-uns. Variees, tant dans la forme que le style, les composition d'Airat Ichmouratov sont infuencees, entre autre, par Mahler, R.Strauss, Shostakovich, Prokofiev et Rachmaninoff. Sa musique a ete enregistree par plusieurs labels tel que Chandos, Warner Classics, Analekta, ATMA Classique, Hedone Records.
En avril 2022, Airat ichmouratov a enregistre ses concertos pour Piano et Alto avec l'Orchestre symphonique de Londres, qui sortira à l'ete 2023. (Jean-Philippe Sylvestre -piano, Elvira Misbakhova – alto, Chandos Records)
En octobre 2020 Airat Ichmouratov a recu le prix Charles-Biddle – volet national et international, qui honore les personnes qui ont immigre au Quebec et dont l'engagement contribue au developpement artistique. Ichmouratov a ete nomme Compositeur en Residence en 2012 aux Concerts des iles du Bic, Compositeur d'Ete au Centre d'Arts Orford en 2013, Compositeur d'Ete à la edition du Festival Classique des Hautes-Laurentides en 2015 et depuis 2018 il est Compositeur et Chef en Residence de l'Orchestre Symphonique de Longueuil. Depuis 2010 Ichmouratov est compositeur associe au Centre de Musique Canadienne.
 Titulaire de deux maitrises en interpretation (clarinette) et en composition, ainsi que d'un doctorat en direction d'orchestre de l'Universite de Montreal, Airat Ichmouratov a frequemment ete invite comme chef invite avec de nombreux orchestres à travers le monde. M. Ichmouratov a ete chef en residence de l'orchestre de chambre "les Violons du Roy" de 2007 à 2009. Le concert Impressions russes, qu'il a dirige avec cet orchestre en decembre 2008 et au cours duquel il presentait la premiere de son Concerto pour violoncelle, a remporte un prix Opus . Airat Ichmouratov a ete chef en residence chef de l'Orchestre symphonique de Quebec de 2009-2011. Au mois d'aout 2011, Mr Ichmouratov a dirige l'orchestre I Musici de Montreal lors d'une tournee au Bresil, Etats-Unis et au Perou.
En octobre 2011 il a fait ses debuts avec l'Academic State Opera and Ballet Theatre du Tatarstan (Russie) et il a ete reinvite pour diriger le Turandot de Puccini et Rigoletto de Verdi lors de la tournee europeenne de 2012-13. Airat Ichmouratov a etudie la clarinette au Conservatoire de Kazan, ville de Russie ou il est ne et a grandi. En 1993, il obtient un poste de clarinettiste associe au Theatre d'opera et de ballet du Tatarstan et à l'Orchestre symphonique de Kazan avec lequel il fera, entre autres, une tournee europeenne. En 1998, il vient poursuivre ses etudes musicales au Canada et obtient, en 2000, son diplome de maitrise à l'Universite de Montreal sous la direction d'Andre Moisan. A la meme epoque, il fonde le Trio Musinsky avec lequel il remporte les premiers prix du Festival national de musique du Canada (2002) et de la 8e Competition internationale de musique de chambre à Cracovie, en Pologne (2004). Le trio a egalement enregistre pour CBC et a donne des performances en Chine, en Russie et ailleurs en Europe.
En l'an 2000, Airat Ichmouratov se joint au groupe de musique klezmer Kleztory ou, en plus d'y jouer de la clarinette avec une virtuosite electrisante, il agit en tant que compositeur et arrangeur. En 2004, le groupe enregistre un disque sous etiquette CHANDOS avec le repute I Musici de Montreal sous la direction de Yuli Turovsky. En 2007, Kleztory s'est merite le prix Opus 2007 du meilleur disque jazz/musique du monde au Quebec pour son album Nomade. Toujours avec le groupe Kletztory, Airat Ichmouratov s'est produit en tant que clarinette solo avec les orchestres symphoniques de Montreal et de Quebec, I Musici de Montreal et l'ensemble Thirteen Strings d'Ottawa et l'orchestre de musique de chambre de Bruxelles. Depuis sa creation en 2000, Kleztory a donne plus de 1000 spectacles au Quebec, au Canada, aux Etats-Unis, au Mexique, au Bresil, au Costa Rica, en Chine, en Suisse, en Roumanie, en Hongrie, en Autriche, en Belgique, en Allemagne, en Norvege, en France, en Pologne et aux Pays- Bas.
カナダの音楽家アイラット・イシムラトフは、数々の賞を受賞した作曲家である。彼の作品は、マキシム・ヴェンゲーロフ、ロバート・ランジュバン、ヤニック・ネゼ・セガン & Orchestre Metropolitain、ロンドン・シンフォニー・オーケストラ、モスクワ・ヴィルトゥオージ室内オーケストラ、ユーリ・トゥロフスキー & イ・ムジチ・ドゥ・モントリオール、アレクサンダー・ギルマン & LGT ヤング・ソロイスツ、イスラエル・ソリスト室内楽団、ケベック・シンフォニー・オーケストラ、インド・シンフォニー・オーケストラ、台湾シンフォニー・オーケストラ、ポーランド放送アマデウス室内管弦楽団、Les Violons du Roy、タタルスタン国立交響楽団等、数多くのオーケストラに、ウィーン楽友協会、ベルリンコンツェルトハウス、エルプフィルハーモニー・ハンブルグ、チューリッヒ・トーンハレ、シドニー・オペラハウス、モントリオール・シンフォニーハウス、他に世界各国のコンサートホールで演奏されている。多芸多才なフォルムとスタイルを持つイシムラトフの作曲は、チャンドス、ウォーナー・クラシック、アナレクタタ、Atmaクラシック、Hedoneレコードのレーベルでレコーディングされている。
モントリオール大学でクラリネット演奏、及び作曲、と二つの修士号、そしてオーケストラ指揮方の博士号を取得したイチムラトフは、世界各地の多くのオーケストラからゲスト指揮者として頻繁に招かれている。2007年から2009年はケベックのLes Violons du Roy、2009年から2012年はケベック・シンフォニー・オーケストラ、そして2018年から2021年はLongueil・シンフォニー・オーケストラののレジデンス指揮者を勤めた。2011年8月には、イ・ムジチ・ドゥ・モントリオールの指揮者として、米国、ブラジル、ペルーのツアーに同行。同じ年の10月にはロシア・タタルスタン・アカデミック・ステート・オペラ・アンド・バレー劇場にデビュー。直後に、2012−2013のシーズンのプッチーニのトウーランドット及びヴェルディのリゴレットの指揮者として任命され、欧州公演も行った。
タタルスタンのカザンで生まれたイシムラトフは、カザン国立音楽院でクラリネットを学び、1993年に、ロシア・タタルスタン・アカデミック・ステート・オペラ・アンド・バレー劇場とカザン・ステート・シンフォニー・オーケストラでクラリネットの副主席に任命されたと同時に、幅広くヨーロッパで 公演を始めた。2000年にカナダに移民してから、Muczynskiトリオを設立し、2002年にカナダのナショナル・ミュージック・フェスティバルで1位、そしてグランド賞を受賞、2004年にはポーランドのクラコフの第8回世界室内楽コンペティションで1位を受賞した。トリオはCBCで録音を行い、カナダ、中国、ロシア、ヨーロッパで演奏をしている。

2000年にはKleztoryというクレズマーグループに加わり、以来クラリネットを演奏し、作曲、編曲をおこなっている。Kleztoryは2012年にアムステルダムの国際クレズマー・フェスティバル・コンペティションでKlezmer Furth賞を得た結果、翌年の春にFurth Klezmerフェスティヴァルに参加した。イチムラトフはKleztoryと共にクラリネットのソリストとしてモントリオール・シンフォニー・オーケストラ、ケベック・シンフォニー・オーケストラ、イ・ムジチ・ドゥ・モントリオール、Les Violons du Roy、ブリュッセル室内オーケストラ等と、20カ国以上で1000以上の演奏をしている。

2020年の10月21日にはCharles Biddle Awardを受賞した。カナダのケベック州の移民省から授写するCharles Biddle Awardは、イチムラトフが移民として、個人として、そしてプロとしてケベックの文化と芸術ににもたらす献身をを強調する。
イチムラトフの最も最近の作曲、ヴィトル・ユーゴーの小説と同じタイトルである"笑う男"というオペラは、Festival Classicaか依頼された作品で2023年の春にモントリオールで作曲家本人の指揮によって初演された。
For any requirements about orchestration, duration or program notes – please feel free to contact me via email
Octet, Op.56 "Letter from an Unknown Woman
Stefan Zweig's story of unrequited love, of loss, pain, and obsession, inspired Airat Ichmouratov to compose his seventeen-minute, single-movement Octet in G minor, Op. 56, subtitled Letter from an Unknown Woman. The tragedy, passion, and intense emotion of the letter is played out in Ichmouratov's music. Octet is also arranged for String Orchestra and featured on composer's most recent recording by Chandos.
Overture "The Myth of Falcon"
Overture "The Myth of Falcon" Op.65 is inspired by One of the most beautiful and mystical symbols in the Hungarian legendry – Turul, and absolutely doesn't have any relation to any political meanings. The Turul is a mythological bird of prey, mostly depicted as a hawk or falcon, in Hungarian tradition and a national symbol of Hungarians…
Music for Children
Variations on Children's Theme Op.23   for Strings and Harp (2010)
str, hp

duration: 15 min.
Moomin and Magician's Hat Op.24, music tale, based on story by Tove Jansson (2010)
narr, str, hp

duration: 50 min.
Chamber Suite  from "The Sorcerer's Hat" Op.24 A (2010)
"Ares" the god of War, piece for youth orchestra (2019)
orchestration : 2221/2211/T+3/Str

duration: 3 min.
Shuburchunchiki Op.19  (2010)
Giraffe for String Orchestra Op.48 (2016)
Shabarsha for Tap Dancer and String Orchestra Op.39 (2013)
tap dancer, narr, str

duration: 2 min.
"When land became Water" Music tale, with Puppet Theater and Chamber Orchestra after Neeta Premchand's book.
Puppet theatre, narr, str

duration: 45 min.
Klezmer
Jew in Rio Op.2   for klezmer band (2000)
Bolero Op.3   for klezmer band (2000)
The song of the Dead Sea Op.4 for klezmer band (2006)
Clarinet Doina Op.30 For clarinet , klezmer band and  with Symphony Orchestra (2012)
Gut Yontev Op.31 For klezmer band and Symphony Orchestra (2012)
My Mother's Nigun Op.45 for klezmer band (2015)
Little Khosidl Op.46 for klezmer band (2016)
Hora in G for Op.49 klezmer band (2016)
Churchill street Hora Op.51 for klezmer band (2016)
Freilakh for klezmer band Op. 52 (2016)
Soulmate Op.53 for klezmer band (2016)
Waltz Op.54 for klezmer band (2016)
The Wonderer Op. 71 for klezmer band (2022)
Freilach "Intersection" Op.72 for klezmer band (2022)